The Himalayas are not only a home of snow
The Himalayan flora differs according to the climate, amount of rainfall, altitude and the quality of soil. The climate changes from tropical at the mountain foothills to the perpetual snow and ice 6000 m above sea level. The tropical jungle and fertile lowland in the South of Nepal, gradually give way to the sub-tropical climate,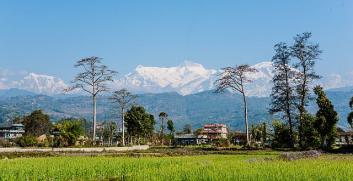 covered by lush forest vegetation; deciduous and mixed temperate woodlands at the foothills of the Himalayas. At higher altitudes this changes into mountainous zones of the coniferous forest, scrub pine, pastures and mountain meadows. The tundra which is located even higher then eventually turns into an area of perpetual snow. The Himalayan slopes and valleys are home to more than 3,500 herb species. Several hundreds of these herbs have been used in Ayurvedic medicine in medical, aromatherapy, cosmetic and culinary field for millennia.
Herb Collection and Handmade Processing
Perfect knowledge of herbs and spices and their collection, is part of everyday life of many of the inhabitants in mountainous areas at the Himalayan foothills. Thus the preparation of Ayurvedic herbal teas has maintained its traditional character, which it had long ago, when people went collecting rare herbs, growing high up in the Himalayas. This helped them to prepare regenerating and refreshing drinks, contributing to a stronger immune system and sound health.
Even today, many people go on long journeys to the remote areas of mountain massifs, to collect wild herbs and transport them down to the valley, often only with the help of their yaks and mountain goats. For the production of Himalayan teas, more than 60 Ayurvedic herbs are used that are collected in large areas of the Himalayas. The plants are first hand-cleaned and then different parts of the herbs are processed, such as roots, stalks, bark, leaves, flowers, seeds and fruits. These are further crushed and grounded into small parts, to achieve quality and efficient infusing of herbal blends. At this stage, herbs are weighed and mixed according to original Ayurvedic recipes.
The Health Benefits of Ayurvedic Herbs
For many centuries, Himalayan herbs have been used to optimise mental and bodily functions. They are the corner stone of traditional Ayuvedic medicine, which uses them in various combinations. Each herb has multiple effects, therefore the exact blending ratio matters, to strengthen or weaken their specific outcomes. Himalayan Ayurvedic teas are a unique combination of these time-proven herbs and their beneficial decoctions. They optimise mental and physical strength, rejuvenate bodily tissues, harmonize cardiovascular and lymphatic system, calm the nervous system and respiratory tract and support digestion and metabolism. They also detoxify the body and stimulate brain activity and the immune system. Their specific effects, when used regularly, favourably affect our bodily and mental health condition. The description of each tea contains the composition of herbs, a list of their effects and an overview of the categories or areas that each tea covers.
Ayurvedic herbal elixirs, or avalehas, which are prepared exactly as described in classical Ayurvedic texts, are another way how to gain the benefit of authentic Ayurvedic herbs. They are based on the highly valued Ayurvedic fruit Amla or Amalaki, which regenerates body tissues and strengthens the immune system with its high amount of antioxidants and vitamin C. Freshly picked amla is also used in the form of pure ground powder, mixed with eleven other ingredients such as ashwagandha, shatavari, turmeric, ginger, moringa, young barley, spirulina, rose and lotus in an original form of Ayurvedic hot drinks. Other traditional Ayurvedic fruits such as royal mango, jackfruit and papaya, which we offer as a healthy snacks togehter with dried Amla fruit, contain many vitamins, minerals and nutrients that maintain the shelf life and their juicy taste without any additional preservatives based on the natural process of blanching in freshly squeezed sugar cane juice.
Ayurvedic Doctor
The herbal blends, have been prepared under strict control by the Nepali Ayurvedic physician Dr. Kam Dev Jha, who studied at the State University of Ayurvedic medicine in Patna and at the Faculty of Medicine at the University in Benaras. During the sixties, he was in the service of the Nepali Ministry of Health, and in 1971–1997, he worked at the faculty hospital of the oldest Ayurvedic University, Naradevi, in Nepal. He is currently cooperating with, and consulting many Ayurvedic medical companies.
The traditional Ayurvedic wisdom and knowledge of the secrets of life have been handed down from generation to generation by initiated teachers. This has been done as a form of service to all those who are looking for an inner realization of the indivisible integrity, between the physical and spiritual existence of a human being. Based upon such an understanding, one's life becomes richer and more meaningful. If we understand ourselves better, then we will also understand more about other people and the world around us. And so we discover simplicity, beauty and an inner stream of life, which will bring more joy, harmony and security into our everyday activities.
"A man who eats properly, lives a disciplined life, keeps himself detached from sensory objects, gives and forgives, loves truth and serves others, is without any disease."
- Ashtanga Hridayam
Everest Ayurveda s.r.o.
Everest Ayurveda s.r.o. is a Czech-Slovak-Nepalese company that spreads the message of Ayurvedic medicine, healthy lifestyle, use of Himalayan herbs and the inner dimension of human beings in accordance with the Indian tradition. The company was founded in 2004 in the Czech and Slovak Republic in cooperation with Nepalese Ayurvedic physician Dr. Kam Dev Jha and with the doctor of Biotechnology Suresh K. Sah.
The traditional ayurvedic products from Nepal and India represent the main subjects of import, export and wholesale activities. Everest Ayurveda is placed in the Czech Republic with the Head Office in Prague, branch office in Slovakia, Bratislava and production of herbal supplements in Nepal with residence in Kathmandu.